A few publications and brands Celeste has been featured in or worked with.
Royal Doulton
My Story - Why Coffee is more than just a drink
TGITC coffee Feature in One Click Subscription Zine
Interview, March 2019
POUROVER COFFEE WORKSHOP EVENT WITH MELITTA UK
Panda Radio Interview by award winning Host Kavita Kavita for International Coffee Day where I was speaking about coldbrew and my Bailey's Irish Cream & Coffee cocktail signature serve.
"Persona" by Chris Turner
Jamie Oliver International Press Book Launch
Jamie Cooks Italy with mentor Gennaro Contaldo. Again I was invited to make and supply TGITC coffee from my coffee-collab (with The Roastery Dept) for Jamie's international press launch for his impressive new book, Jamie Cooks Italy.
Again, it was an absolute blast, especially using a vivid yellow La Marzocco Mini. Busy but great!
Baileys Irish Cream
"Treat Collective" Campaign
2018 - Shortlisted for the PRCA Campaign award
Baileys Irish cream has chosen five female entrepreneurs in the artisan food and drink industry to be part of a Treat Collective #TREATUP campaign. Each of us bring something unique to the mix, as ambassadors in our own fields. In both campaigns I have been part of, with these amazing women, we are collaborating to create amazing, decadent but simple recipes for people to make at home and in bars and restaurants throughout the country. The most recent project is part of the Bailey's Almande Dairy-free spring Launch and rolled out across all social and various media platforms.
I will be at THE LAB sessions during this London Coffee Festival (2pm, April 14 & 15) work-shopping one of my creations and at the Baileys Women's Prize For Fiction Shortlist awards, main event workshop showcasing two of my coffee-cocktails at Waterstones in London.
The Treat Collective Women: Lily Vanilli (Star Baker), Lucie Bennett (Patisserie Chef, Chocolate expert), Sophia Brothers (Nonna's Gelato), Missy Flynn (Mixologist, Rita's Dining), Celeste Wong (The Girl in the Cafe, Coffee)
Jamie Oliver International Press Book Launch
5 Ingredients Quick and Easy Food, Aug . 2017
I was invited to make and host my The Girl in the Cafe coffee spot for Jamie Oliver's International Press launch for 5 Ingredients Quick and Easy. It was super fun.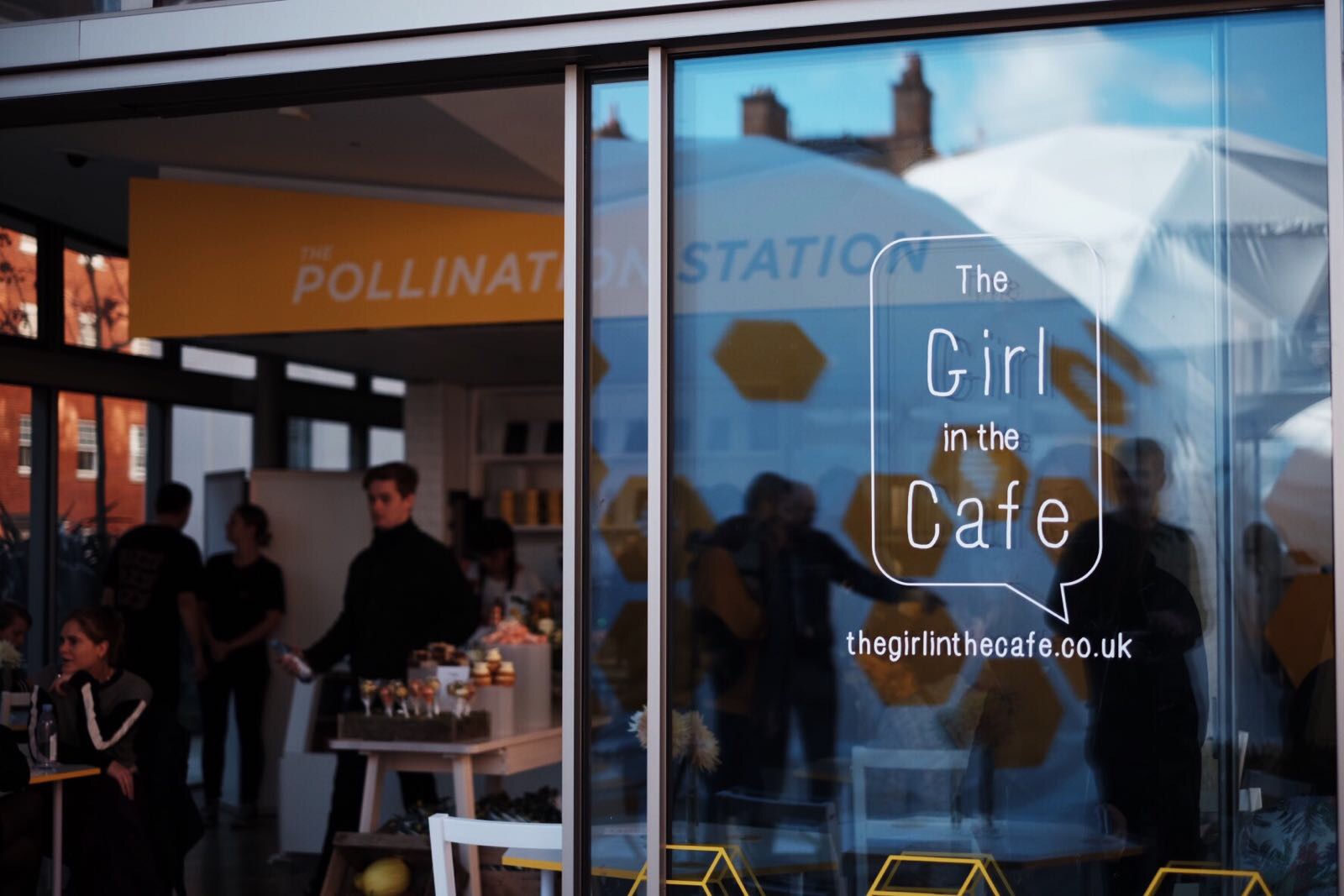 Bumble Bizz international UK Launch
Marylebone, London, October 2017.
I was invited to set up a pop up cafe for the UK launch of Bumble Bizz - a location-based social application that facilitates business communications. Bumble was founded by Whitney Wolfe Herd shortly after she left Tinder, a dating app she co-founded.
AIRPORT BILLBOARDS: "WISE HEAD"
HSBC: This is a Story of Human ambition CAMPAIGN
PROMOTING SMALL, INNOVATIVE BUSINESS
TERMINAL 5, GATE A8
If you see me on billboards while boarding flights in all major airports (HK, LAX, Melbourne, Sydney, Heathrow...) TAKE A SELFIE with me and send it through! Here, I finally saw one when I boarded my Melbourne flight back to London!
CAFFEINE MAGAZINE FEATURE
"A Strong Look"
INDUSTRY AND CONSUMER PUBLICATION
We love these controversial tees by The Girl in the Cafe, aka Celeste Wong from Lantana. The loose-fit #ThatsHowILikeMyCoffee T-shirts, available in black or white are emblazoned suggestively with slogans including Strong, Black, White, Wet, Flat and Short - because thats how we like our coffee. $22 thegirlinthecafe.co.uk
Fitzrovia Journal
8 page featured interview
August 2015
Sunday Blessed BLOG ON MY POP UP SKATE CAFE IN STOKE NEWINGTON
04 August 2015
The Financial Times (FT) is one of the world's leading business news and information organisations, recognised internationally for its authority, integrity and accuracy. ADGA reveals that the FT reaches over 2 million readers every day.
Pretty Living PR
Reaching 30,000 daily.
Celeste opened their blog buzz feature for the launch of their online magazine on Sunday, March 23, 2014
G(O)OD+(D)EVIL - SHORTFILM
A collaboration with good friend and Director Chris Turner resulted in this personal short art film in which Celeste stars. This film has been selected for competition at the BERLIN Fashion Film Festival (along side Guy Richie & Wes Anderson Films) and personally selected by Diane Pernet for PARIS ASVOFF and to tour worldwide with her festival . It has reached over 111,000 views online since its release end of 2013.
WARNING: A bit dark and weird. Watch in the dark with the volume up.
New Behind The Scenes (BHTS) images released on Director Chris Turner's site: